Thursday, March 8, 2018 / by Rob Hale
If selling your house is a possibility anytime soon, then you should be thinking about what to do to prepare.
Working with sellers is definitely one of our specialties, so we have many clients who reach out when they are ready. When we sit down and talk through the numbers, they are often surprised when they learn how much more money they can get if they do at least a few simple updates. Most of them end up taking some of our advice by changing paint, flooring, landscaping, etc.
However, it always makes me a little sad to see people go through the work and investment just in time for someone else to enjoy it. But every once in a while, I come across a savvy client who made the updates with enough time to enjoy before selling!
The lovely Queen Creek home pictured below is a great example. Using some of our advice, the sellers updated the home about two years ago, and it is still in pretty much perfect condition. It shows wonderfully, and looks as though they finished the updates yesterday. My favorite part of this story?
This family got to enjoy their fantastic updates for two whole years before selling!
And now here they are, selling effortlessly when the prices are soaring. When paired with our marketing and expertise, their home was on the market for less than a week before we successfully negotiated a contract for them. Talk about having your cake and eating it too!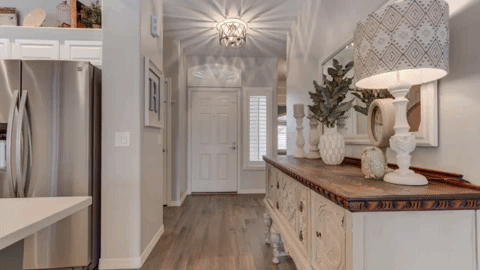 We would love to help you figure out how you can tastefully and timelessly update your home with your future sale in mind, while enjoying your home in the meantime. On average, our listings sell for 100.4 percent for the list price (compared to the market average's 97.4 percent), so we are pretty good at giving out this advice!
Oh, and just so you are in the know,
monthly median sales price is up over 10 percent in the Phoenix Metro area
over the past year, so this is obviously a great time to sell. We can definitely help you with that. Just give us a call!
Rob Hale
480-845-0048
---