Friday, April 20, 2018 / by Rob Hale
The seller's market story continues, but there is more going on in this real estate market than meets the eye.
Have you ever heard of iBuyers? These are tech-driven real estate investors, like Opendoor and OfferPad, that are absorbing more of the market share. Their total sales dollars have increased 14 percent over the last year. Other investing companies are also buying up properties. This is one of the reasons supply is so low right now.
These companies are responsible for a growing amount of purchases throughout the valley. They bring cash offers and promise a quick and hassle-free transaction. Sounds great, right? Well then how about an even higher cash offer, that also comes with a quick and hassle-free transaction. That is what we can bring you.
We have had several clients come to us recently after getting a purchase offer from one of these iBuyers. They wanted to check and see how these offers would compare to what we could do for them. We are happy to report that we were able to beat out the iBuyers with higher purchase offers for their homes.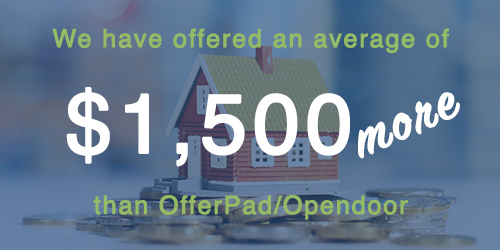 It's really a no-brainer at that point. It's completely free to get that comparison: you just give us a call, we take a look at your house and let you know our number. And more than likely, it will beat out these other companies that have lots of overhead and other expenses baked into their purchase offers.
If you are buying, all this talk of iBuyers might be some discouraging news. You already have enough competition as it is! We've noticed that these companies are also doing even less to fix up the houses they buy, leaving you with higher prices and homes back on the market that aren't even nicely updated. That is why you need access to our off-market properties. This is a list of homes, accessible only to our clients, that are going to be hitting the market soon, many of which are currently being updated beautifully.
So whether you are buying or selling, now you know who to call!
---