Wednesday, December 6, 2017 / by Taryn Hale
As we wrap up 2017, we are grateful for what we get to do every day. We love to help people navigate some of the most momentous decisions in their lives.
This is especially the case in the current real estate market, where experienced agents can make a huge difference: listings are down 12 percent from this time last year, which means buyers need full-time agents who are great negotiators and know how to make their offers stand out. Meanwhile, median sales price is up nearly 9 percent, so expert guidance on how to maximize your home's value can get you an even greater return.
Just the other day, we were able to help a client sell their home for the full asking price of $325,000
within three days

. This experience came after the client had their home unsuccessfully listed with another agent for five months. The agent dropped the listing price of their home several times (from $313,000 to $299,000) and still couldn't get the house sold.


We love to help people, and we feel fortunate to do that for a living.
This holiday season, we wanted to find an additional way to serve, so we are teaming up with our clients to gather wish list items for the children at Sunshine Acres Children Home. This is an incredible organization that helps provide a wholesome and loving home for children who are separated from their parents.
We would love it if you would participate with us! See the invite with the details below.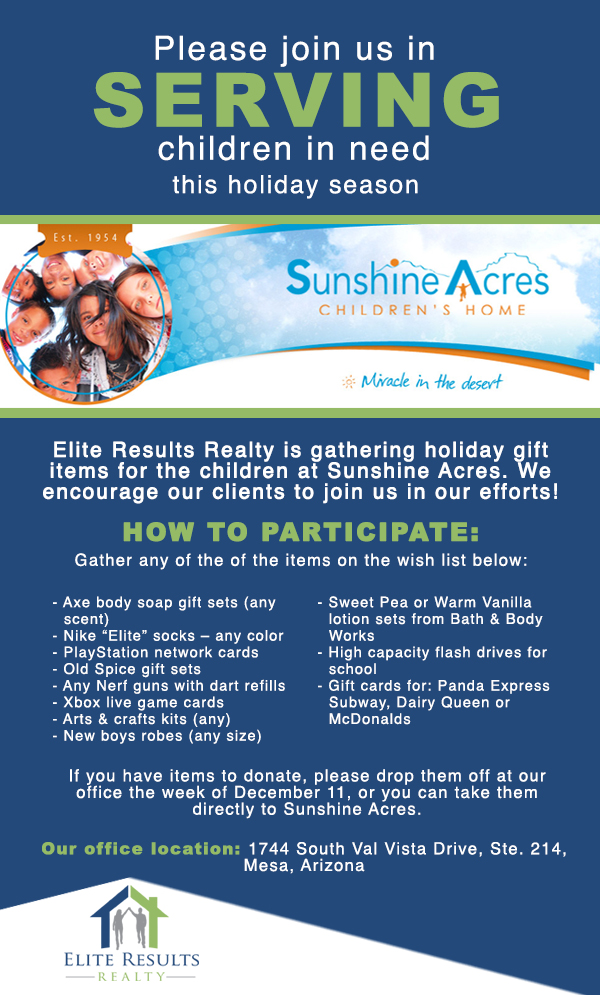 Please reach out if you have any questions about this wish list drive for Sunshine Acres, or if we could help you or any of your friends/family navigate this ever-changing real estate market.
---